25 July, 2018
Santander's pace of digital onboarding in LatAm shows signs of slowing
Santander's digital customer base is growing quickly in Latin America, although the rate of expansion is showing signs of slowing down. In Chile, where the bank is trialing a new branch model, digital sign-ups are accelerating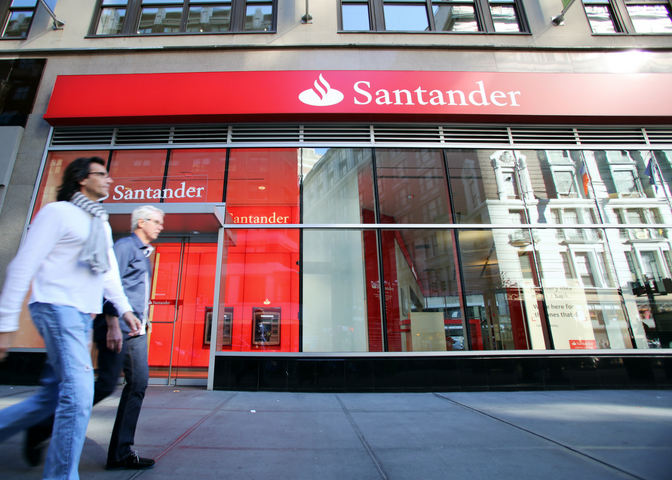 Santander is signing up customers to its digital channels at a cracking rate – it added just over 600,000 digital customers in its four Latin America markets in the second quarter, it reported on Wednesday.
In Mexico and Brazil, the number of the bank's clients that use digital channels has grown around 30% over the past year.
But the pace of growth is showing signs of slowing down, in Argentina, Brazil and Mexico.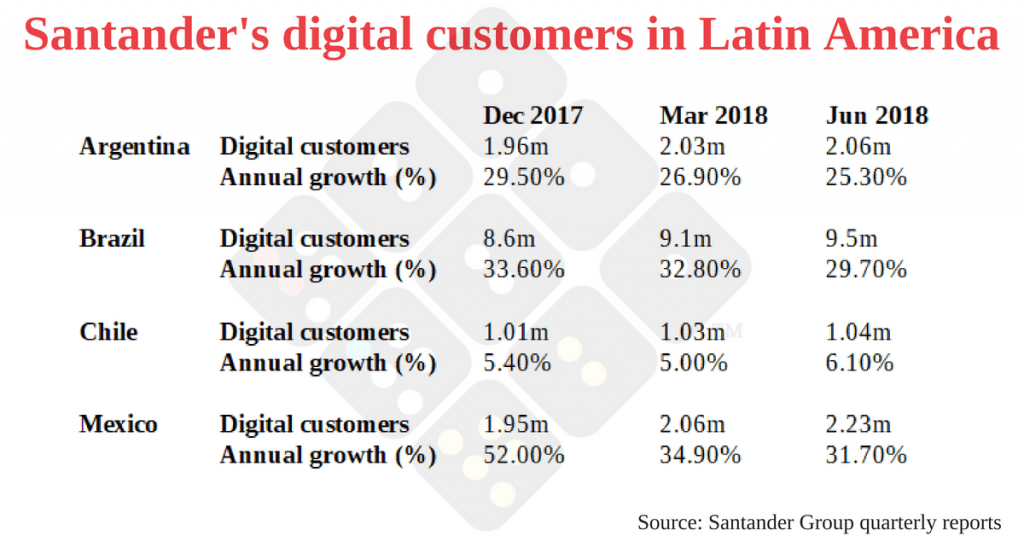 Santander Brasil added 400,000 digital customers in the second quarter, bringing the total there to 9.5 million. That was fewer than the 500,000 added in the first quarter, and brings the annual growth rate to 29.8%.
In Mexico, the bank added 171,000 digital customers, bringing the total to 2.2 million. The annual rate of digital sign-ups is 31.7%, the highest in the region – although a drop from the eye-popping 52% annual increase it recorded in 2017.
And in Argentina, Santander added 29,000 digital customers, lifting the total to just over 2 million. The annual rate of growth in June was 25.3%, which has trended down since December.
Coworking, Coffee and Life show results in Chile
Chile, the fourth Latin American market where Santander has a retail presence, was an outlier. There, the bank's pace of digital sign-ups accelerated in the second quarter.
Santander added 14,000 digital customers in the second quarter in Chile, to reach 1.04 million. The annual growth rate of 6.1% is the lowest for the bank in its four LatAm retail markets, but it is trending up. Santander Chile reported a 5.4% annual growth rate in digital customers in 2017.
The acceleration perhaps reflects a strong push towards digital channels in Chile. The bank is rolling out a new branch model branded "Work/Cafe", combining coworking spaces, coffee shops and Santander advisers. The model has a cost to income ratio of 15%, compared to a 17% ratio in traditional branches, the bank said.
Additionally, its digital platform "Life" – which offers credit and debit cards and a current account – has attracted 16,600 clients since its launch in December.
The pace of new sign-ups to Life slowed in the second quarter, with just 1,400 new clients joining. But lending through the platform has grown sharply. The Life credit portfolio by 62.5% in the second quarter, to CLP 13 billion (USD 20 million).
LatAm fintech insights
Get the scoop on how your peers, competitors and clients are using fintech to get ahead. Leave your details to receive iupana's exclusive, in-depth coverage of banking technology in Latin America and the Caribbean in your inbox on Monday mornings. (You can unsubscribe in one-click if you decide it's not for you.)