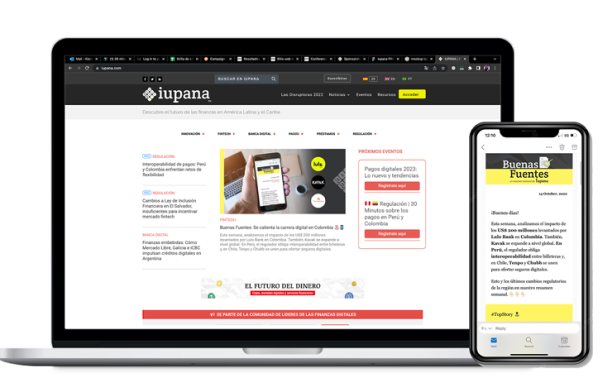 We help financial innovation flourish in Latin America and the Caribbean.

Latin America´s digital banking, fintech and payments leaders turn to iupana for hight value market information.

We connect global companies with the right decision makers in LatAm digital finance, to generate high-value business leads and drive premium brand recognition.


75% of our readers influence the purchasing decisions for their company.


50% of readers made a professional decision thanks to the information provided by iupana in the last 12 months.


87% of readers say iupana helps them "a lot" to keep abreast of developments in digital finance.
Generate leads, raise brand recognition, and lead the conversation
Reach Latin America's financial services decision makers through iupana
Let's help financial innovation flourish, together.
Download our media kit to learn more about our audience, and how we can help grow your business in Latin America's digital finance industry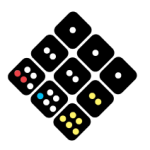 iupana explains industry changes and sparks relevant conversations - and above all, we share robust, high value market intel with Latin America's financial services innovators.
Our award-winning reporting helps industry leaders make sense of
the pace of change – and inform their business strategy.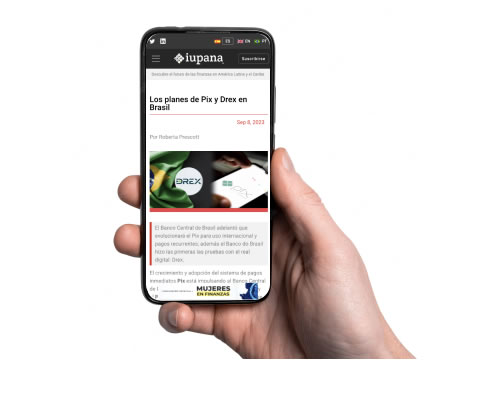 News and analysis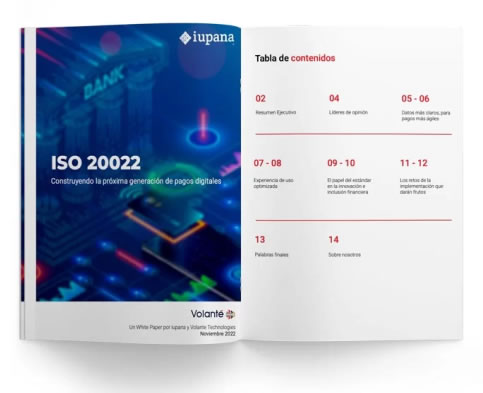 Special downloadable reports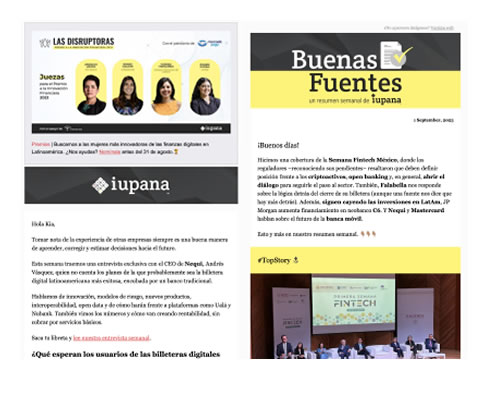 Email newsletters
Our live events are engaging and interactive, and help senior executives make meaningful
professional connections.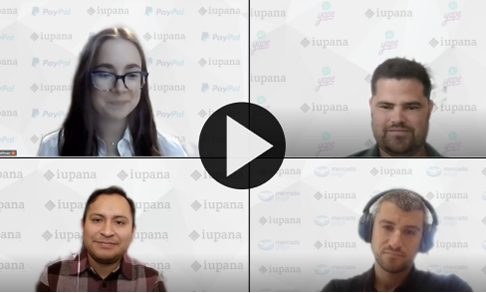 Digital events feature industry leaders to discuss new trends with our audience across Latin America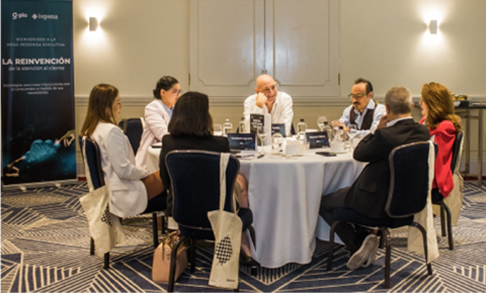 Executive roundtables bring together curated invitees for premium thought leadership
Position your brand right where banking, fintech and payments leaders are looking for answers.
Join the conversation to connect with high-quality leads, new prospects and clients.
Download our Media Kit to find out more about sponsorship opportunities with iupana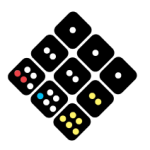 iupana provides high-value, exclusive coverage of:
• Digital Banking
• Fintech
• Financial innovation
• Regulation
•Payments
---
Take a look at our latest coverage in Spanish:
And our latest coverage in Portuguese:
Or look back on our archive of English-language content: