Banks are looking for new ways to serve their clients, spurred on by the increased pressure to digitalize processes in the wake of COVID-19.

But while technology is helping to streamline interactions, it's also a golden opportunity to improve customer relations through what's been dubbed empathetic banking.
The pandemic has transformed the way many businesses operate and interact with suppliers and clients, and the banking industry is no exception; it has accelerated the shift to online and mobile banking that was already in progress.
With customers unable to visit their local bank branch during long lockdowns, online and digital became the new frontline. It also led to increased competition between banks and non-traditional competitors who were "born digital"; and customer experiences—a powerful differentiator in banking— became even more important. Financial institutions needed new strategies and practices to remain competitive.
But simply digitalizing what used to be analogue isn't good enough. Customers want more, and banks began to seek ways to offer human, digital banking experiences. This has led to a rise in "Empathetic Banking".
A global survey of senior banking executives by the Economist Intelligence Unit (EIU), which was sponsored by Temenos, showed that four in five (81%) believe that banks will seek to differentiate on customer experience rather than on products. The question many executives are asking is: how do you put customers at the heart of digital banking? How do you build emotional connections?
The pandemic presented unique opportunities to move to digital, and financial services were able to go both ways: moving existing services over to digital channels and seizing the chance to create deeper, personal connections with their customers by anticipating customer needs, and making every interaction hyper-personalized and relevant.
The big switch to digital banking
Customers are moving to digital channels faster than ever. According to a global study conducted by BCG, use of online banking rose 23% in 2020 and mobile banking climbed 30%. The migration is likely to be permanent, with the pandemic bringing forward the switch to digital channels by three to four years.
In Brazil, mobile banking has already become the dominant channel, accounting for half of all banking transactions, shows a survey by Deloitte for the Brazilian Federation of Banks (Febraban).
Mobile accounted for 51% of the country's 103.5 billion bank transactions in 2020, representing a 43% increase over 2019. Internet banking was the second most-used channel, accounting for 16% of transactions and increasing 19% year-on-year.
Read next: Growing force: Rise of women in fintech brings big benefits
Empathetic banking: 'It's about relationship'
These gains reflect how financial institutions responded to customers' increasing need for digital services. Banks rushed to make new products and services available on these channels, while customers who had never accessed banks' apps before, began to use them during the pandemic, and won't be going back to the analogue world.
This scenario creates two big challenges: the transformation of branches, and digital innovation. Both should strive to create a human experience that exceeds expectations and produces empathetic banking.
"When you talk about humanizing the bank, it's about relationship. The customer will have to feel they're part of the ecosystem and feel comfortable with that," said Nelson Taborda, CEO of Atlantic Bank, a Brazilian neobank.
In the case of physical branches, why not expand financial activities to offer something more? That's what Santander is doing by combining bank branches with coffee houses (more on that later).
According to Temenos, the four key points that banks should take into account when designing new, customer-centered strategies are:
be authentic by bringing the brand and values to life in every touch point;
be personal by customizing extensively for every customer using data and AI;
be connected by giving customers and employees easy access to the information and tools they need;
be aspirational by imagining a more human future and make it a reality.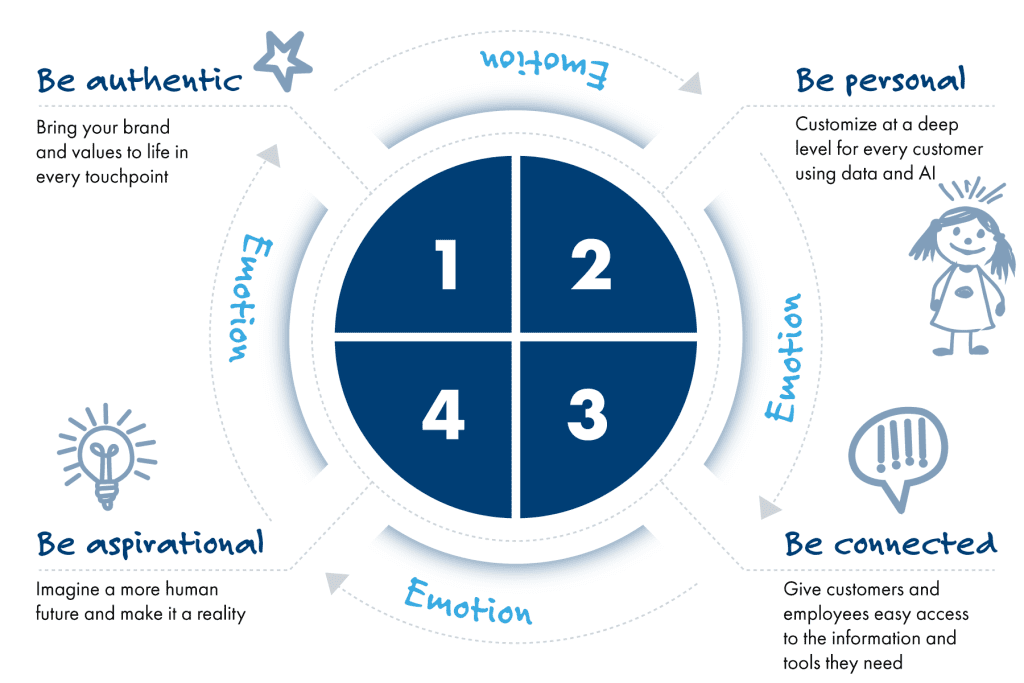 Atlantic Bank aims to charm its customers and turn them into fans of the brand. "Clients should feel welcome and must be able to find what they need within the ecosystem. It's not an easy task," Taborda said.
Atlantic Bank offers a financial ecosystem for companies and individuals. It defines itself as a blockchain neobank that's agile and disruptive. Taborda said the startup focuses on technology, security, design and innovation to offer a personalized and humanized service, empowering people through their finances and transforming their lives.
"Banks are moving from just providing financial services to delivering convenience services," he added.
The payment app PicPay is another example. "Creating the best experience is our priority," said Anderson Chamon, founder and VP of products and technology at PicPay.
"We use technology to simplify our customers' daily lives in a safe and reliable way. We invest a lot in understanding the needs of our audience and in building innovative solutions to meet them," he added.
Chamon said that one of the things that sets PicPay apart is its integration with financial services and social features, such as an updated feed and private messaging.
"This combination not only makes the experience more fluid and complete, it also creates a network effect capable of boosting all areas of the business. A clear result of this is that socially active users have twice as many transactions as other customers and have higher retention—being 2.4 times more likely to continue using PicPay—and 53% more transactions," the executive said.
Embedded finance for human-centered digital banking
Embedded finance is key to creating banking ecosystems and has an impact on customer experience and customer journeys, said Adelina Rusu, Head of Solutions Marketing, Digital Banking at Temenos. It's a concept that incorporates the value of being where the customer is and really understanding the growing role that platforms have in customer journeys and lifestyles.
"It's looking at what customer experience excellence for banks really means, as financial services become increasingly embedded in non-financial contexts," she said.
"Embedded finance reduces friction by removing consumer pain points, such us the need to seek credit, what makes consumers more likely to complete a purchase and, increasing their level of satisfaction with the brand. It's that type of environment that we're talking about," Rusu said.
There are two ways of implementing these kinds of approaches, added Sergio Segura, VP & Go-To-Market Director at Temenos. The first one is to provide a solution—a banking-as-a-service solution —that makes it possible to deliver those financial products and services to third party ecosystems.
"We see tier-three and tier-four banks going that way. They are likely to struggle to compete just on customer experience – fintechs and big tier-one and tier-twos are winning that battle. So they can re-imagine themselves as providers of financial products with a personalised approach, becoming part of a transparent ecosystem of financial services that will be implemented and embedded," said Segura.
The second one is to build a platform that combines financial products and non-financial products and services, a platform where customers meet all their needs.
When bank clients consider buying a house, for example, different buyers have different needs and require a different approach. First time buyers could use additional guidance to go through a journey —in which small and medium businesses could provide specific services or non-financial products that will help them achieve their ultimate goal: living in the house of their dreams. While more experienced buy-to-let clients would value a simplified journey the most. By integrating financial services with third-party services, banks can provide a frictionless experience for their clients.
"We are also seeing that approach, with banks, usually incumbent banks, wanting to become the one-stop-shop for all the needs the customer has in a specific area," Segura added.
"Banks have the customer knowledge and the relationship with small and medium businesses to connect the dots between the customer needs and the service providers and generate value bridging the existing gaps in fragmented markets like housing, car ownership, etc." he said.
Personalization: key for digital banking
Another facet of empathetic and more human banking is improving customer experience and engagement, which also includes personalizing interactions with the institution.
That can go from customizing the app homepage for each client or group of clients based on their preferences and activities, to facilitating onboarding and allowing people to open an account digitally.
Reducing the steps and the time it takes for customers to complete the signup or transaction process is another example. Improving the experience also means making it easier for customers to find what they're looking for.
"Customers want to be treated as a unique person whose environment, lifestyle, personality, preferences, needs and wants are different and evolve with time. That means banks need to personalize, customize—hyper personalize—the experience they are giving their customers, even going as far as advising them to change their spending behavior because, next week or in two weeks, they'll have to pay out a certain amount of money based on past monthly expenses," said Segura.
Enhancing digital banking is an opportunity that goes far beyond just moving existing services over to online channels. The key is to see clients as unique individuals and design their journey from their perspective. By doing that, the bank will be more successful in creating deeper and more personal connections with its customers.
According to the EIU survey, financial institutions' top three strategic priorities leading up to 2025 are improving customer experience and engagement (30.5%); mastering digital marketing (28.5%); and migrating client usage to digital from physical channels (26.9%).
Focusing on the Millennial and Generation Z segments, Italian digital bank Flowe is an example of an institution that aims to help users improve their finances and make a positive impact on society and the planet.
Flowe has been wildly successful in digital customer acquisition. According to the company, onboarding and account opening take just seven to eight minutes. Once they have signed up, clients can use Flowe's mobile banking app to make payments and manage their accounts while on the move.
It also has an eco-friendly approach and uses API capabilities to connect with the systems of partners such as Doconomy, which calculates the carbon footprint created by each customer's transactions, and zeroCO2, which supports reforestation schemes in Guatemala to offset emissions and minimize environmental impact.
According to Chamon, engagement is essential. It is the result of both an experience that meets the user's needs and the provision of products and services that make sense in customers' daily lives.
"The customer experience is the big market difference. In our case, this experience is complete and differentiated, because PicPay goes beyond financial services. We are a digital wallet, a financial marketplace, a consumer goods marketplace and we have social features. Our platform allows us to add more user value as more people use PicPay," he explained.
Chamon also noted that it's necessary to strengthen the digital culture in Brazil. "Just as we believe in the migration from cash to cards, we believe that it's a matter of time until all financial transactions are 100% online and digital; and PicPay is ready and helping to build that change."
You might also like: The bank of you is coming – are you ready?
Customers at the heart of banking: Santander revolutionizes physical agencies
Building an empathetic relationship with customers doesn't have to be limited to the digital world. Banks can reinvent their branch strategy to meet current needs, which have changed due to the shift online.
According to the EIU survey, 65% of bankers believe the traditional branch-based banking model will be "dead" within five years, while 71% expect cash to represent less than 5% of all retail transactions globally by 2025.
Santander has found a way to repurpose branches. The Spanish-headquartered bank is transforming some of them into coffee shops and a place for co-working. Called Work Cafés, the space has been designed for hosting events, talks, conferences and courses.
The Work Café branch concept originated in Chile and has spread to other countries in the Americas, such as the US, Brazil, Argentina and Mexico, and as far away as Spain, Poland, Portugal and the UK. According to Santander data, between two and four times more accounts are opened at Work Cafés than at traditional branches.
In Brazil, José Teixeira is the director of Santander's São Paulo branch network. He told iupana that Work Cafés complement regular branches and other channels. "We don't believe in the full substitution of a physical channel with a digital one. Indeed, Santander remains on the path of increasing the number of branches; we are opening new branches mostly in the countryside to have a presence where we didn't previously," he said.
However, in metropolitan areas, where Santander already has a robust number of branches, Teixeira said the bank is exploring other formats. The first Work Café was launched in Avenida Paulista, a São Paulo landmark.

Santander's Work Cafés have partnerships with local eateries that handle the catering, and the bank's customers get a 30% discount. "It's a space for clients to use for a period of time; to hold a meeting with all the infrastructure they need, including ATM services," he said. "The main objective is to provide a better experience."