As Colombia's loan market bounces back from the pandemic, fintechs are increasing their share thanks to the digitalization of payroll lending – known locally as "libranzas".
Payroll borrowing is the main source of credit for many Colombians and represented 37.6% of banks' consumer loan portfolio as of March this year compared with 17.4% for credit cards, according to a central bank report.
And demand for payroll credit has surged this year amid the economic rebound that following the relaxation of pandemic restrictions. New libranza loans soared 71.1% to almost 20 billion pesos (about US$5.2 million) between January and May compared with the same period of 2020, according to the Financial Superintendency of Colombia (SFC).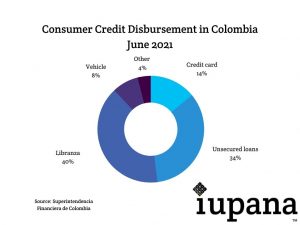 Startups are capitalizing on the trend by delivering loans via virtual channels as well as using onboarding and digital authentication tools.
"Libranza is the primary method public and private sector employees and pensioners use to meet their liquidity needs," Mauricio Chacón, CEO of DiBanka, a credit aggregator, told iupana.
The platform hosts all the actors involved in payroll lending — from banks and fintechs to pension funds, employers and borrowers — in order to grant digital loans, said Chacón.
Under the libranza system, employees or retirees authorise their employer or pension fund to make deductions from their income in order to repay loans. The practice is widespread in Latin America, where many people lack access to credit, as it reduces the risk for the lenders by guaranteeing a source of collection.
This lending model is becoming increasingly relevant for Colombia's financial technology scene as it also allows firms to serve new customer niches, such as individuals with negative credit ratings, said Jonathan Mishaan, CEO of ExcelCredit, a fintech specialising in libranzas.
Almost all of ExcelCredit's loans go to users rated negatively by credit bureaus. In fact, a third of their clients are pensioners between 60 and 70 years of age, a population traditionally considered a high default risk. Pension funds and public sector workers account for 80% of their business.
"There are many parts that make libranzas a complex product so if you don't leverage technology, there may be an operational risk in the business model," Mishaan said.
The company expects to grant up to 20,000 loans this year, expanding its portfolio by 35% compared to 2020.
Fintechs offering access to salary advances are also making inroads in the region, thanks to a business model based on minimal fees and low levels of missed payments.
See also: Open banking in Colombia is getting ready to take off
Limitations on libranzas
According to Banco de la Republica's report, payroll lending lending was "practically unaffected by the shock derived from the pandemic," meaning the level of missed payments remained stable.
Experts said this is partly due to the fact that Colombian libranza regulation limits how much customers can borrow.
"The law tries to bring a bit of order to prevent workers from spending their entire salary using credit. Another of the legal limitations is that libranza borrowing cannot exceed 50% of the salary," said Carolina Duque, a banking and finance specialist at law firm Baker McKenzie.
There are other elements that make payroll credits attractive to lenders. An employer must transfer the money it deducts from payrolls to the lender within three working days otherwise it becomes jointly responsible for the debt.
Employees can also take payroll borrowing with them when they change jobs.
However, there are shortcomings in current regulation when it comes to technology, which is preventing the market from growing more quickly, executives say.
See also: Retailer Unicomer launches fintech credit, QR payments play
The law defines roles, processes, activities and responsibilities but not the delivery channel, said DiBanka's CEO. "Libranza comes up short in that respect," he said.
Fintechs, which are not regulated in Colombia, face other obstacles to issuing payroll loans. Unlike banks, they are not allowed to sell debt secured by libranzas and instead have to raise capital via investment rounds or directly from shareholders.
"Libranza legislation in Colombia does not allow portfolio sales to unregulated investors, only financial institutions. That's the reason why libranza origination has been concentrated in a few players in recent years," says Juan Saldarriaga, CEO of Juancho Te Presta, a fintech specializing in loans.
Payroll loans represent just 2% of Juancho's portfolio currently but Saldarriaga expects that figure to rise to 10% in the next 18 months.
"We could only do so with our own resources or in partnership with a regulated financial entity. We are working on it," he said. "Libranzas will always be a good business."
See also: LatAm's fintech lenders seek new models amid growing competition