2 April, 2018
In a crowded market, BCI bets on mobile payments dominance
Chilean lender hopes that new app MACH will reach critical mass in local payments space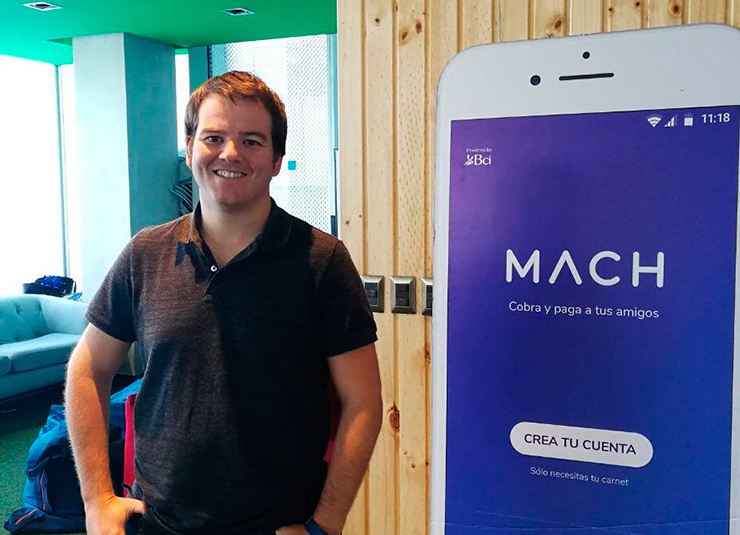 Chile's mobile payments market is ripe for expansion. A third of the adult population does not have a bank account, yet the country has 26.6 million cellphone connections – roughly 1.5 per person – according to Statista.
And while 23 Chilean startups focus on payments and remittances, according to Finnovista's latest Fintech Radar, none has managed to reach critical mass when it comes to mobile payments.
Among independent startups, Khipu has a long history, getting its first seed rounds in 2011 and 2012. The app allows anyone with a Chilean bank account to pay for products and services.
Now local lender Bci hopes that its app MACH will overtake Khipu to become a market leader in mobile payments. The advantage that MACH brings is that users do not need a bank account, according to the product's designer.
"We think that there's still an opportunity [in mobile payments] and the advantage that MACH could have is that it's an open solution – you don't have to be a client of a particular bank," Nicolás Jaramillo, senior innovation product owner at BCI, told iupana. "All that's needed is a valid Chilean ID card, a phone number and a smartphone."
MACH's user base has grown rapidly since last year's launch, and it has beaten its goal of reaching 150,000 users by March.
"This has been a record month for platform usage," said Jaramillo. "We've already reached 200,000 users, and of those, around 30% to 40% are active users."
MACH is set to add a new feature later this month: a prepaid virtual Visa card that will allow users to buy goods online. It's targeting the 70% of Chileans who don't have a credit card, opening the way for them to make online purchases. Some 70,000 Chileans have already added their names to a waiting list for the new product, said Jaramillo.
"We think that with the prepaid card, use of MACH is going to grow a lot."
BCI is looking to add further alliances of the kind it has with Visa, to grow the functionality of the platform, said Jaramillo.
Nicolás Jaramillo discusses the process of designing and developing MACH in today's episode of the iupana conversa podcast. He also shares his view on the future of the mobile payments industry in Latin America. Listen to the conversation (in Spanish) in the player above, or download it in iTunesor through your favorite podcast app.
LatAm fintech insights
Get the scoop on how your peers, competitors and clients are using fintech to get ahead. Leave your details to receive iupana's exclusive, in-depth coverage of banking technology in Latin America and the Caribbean in your inbox on Monday mornings. (You can unsubscribe in one-click if you decide it's not for you.)
Quiz
Digital transformation
How well do you know the strategies of your competitors when it comes to digital transformation in Latin American banking?
Take our quiz to see!
Can I bring you dinner?
Which bank is tapping its POS network and building APIs to offer a delivery service that it hopes will boost client loyalty?
New challenger bank
A new Brazilian challenger bank called C6 Bank is close to launching. It's billing itself as the #NextBigFin. The bank is backed by the chairman of which traditional bank?
Artificial intelligence
Mexican banks are starting to use artificial intelligence tools. What's the main application of the technology currently in Mexican banks?
New threats
What's the biggest digital threat to traditional banks today?
Eeep!
Seems you're a bit behind on what the rest of the market is doing…
Why not sign up for iupana's weekly newsletter to get exclusive news and analysis each Monday on how technology is transforming financial services in Latin America and the Caribbean? (It's free!)
Not bad!
Not a bad effort…
Want to improve your score for next time? Sign up for iupana's weekly newsletter to get exclusive news and analysis each Monday on how technology is transforming financial services in Latin America and the Caribbean. (It's free!)
Nice one!
Great effort – you're clearly an expert in technology in financial services in Latin America!
Show your friends and colleagues on social media how well you did with these handy sharing buttons.