12 March, 2018
Digital security worries hinder consumer app uptake, says SanMex exec
Banks must reassure clients on cyber-security concerns if mobile banking is to take off, says Jorge Zenteno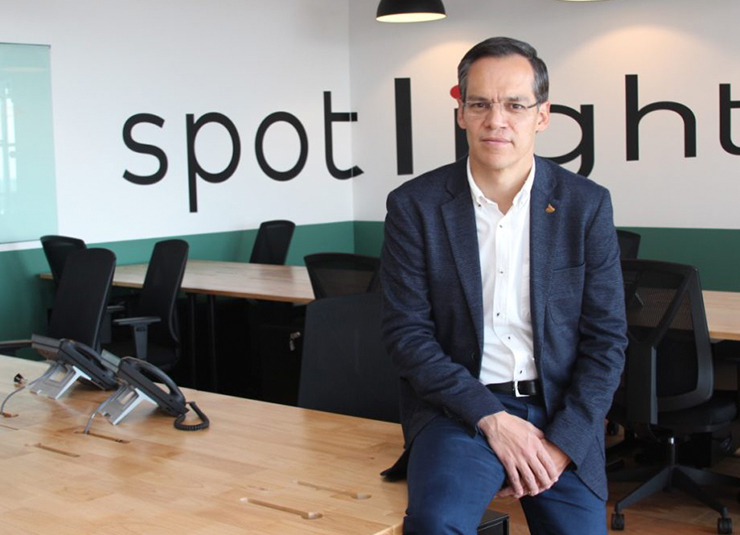 Retail customers in Mexico hesitate to manage their money with online tools because of security concerns, says the head of Santander México's digital factory.
The bank has launched several new online services – including a digital-only account and a mobile wallet app – but consumers have been initially slow to take up the new products, Jorge Zenteno says in today's iupana conversa podcast. That is largely because they worry about keeping their personal data safe.
"It's a gradual process that has started accelerating," Zenteno said of the up-take of the bank's new digital offerings. "The main challenge is that our clients trust that the technology is as good and as safe as dealing with a person on the other end of the phone or in a branch."
The speed at which Mexican consumers adopt new digital capabilities represents the biggest technological difference between the Latin American country and the rest of the world, he said.
"The difference can be seen a lot in the use of technology by the Mexican population. Today we're still in an early stage. As users we still have a certain fear of using new technology."
Younger clients more readily take up new technological offerings, he said. "They want to have more digital interactions with the bank, and we see a good response from them in using these products and processes. But still we have a group of clients that prefer to visit a branch."
As a result of that split preference, the digital factory works not just on client-facing products. It also focuses on upgrading the in-branch technology, so that advisors can better help customers who prefer to bank face-to-face. One such upgrade to the bankers' tech interface has cut the time to open an account in a branch from around 40 minutes to just 10, he said.
The bank branch is here to stay, Zenteno said, and the future of banking will be a blend of personal and digital attention.
"It's going to be a combined model, between personal attention for some high-value services and the efficiency that's gained with technology through digital services."
Jorge Zenteno, director general of Santander Mexico's Digital Factory, shares his views on the biggest tech advances and challenges for Mexico's banks – as well as his outlook for the country's financial sector five years from now in the latest iupana conversa podcast, available today in Spanish. Zenteno also discusses in depth the way that the digital factory interacts with the rest of the bank to develop better technology across the institution. Listen to it in the player here, or download it through iTunes or your preferred podcast app.
LatAm fintech insights
Get the scoop on how your peers, competitors and clients are using fintech to get ahead. Leave your details to receive iupana's exclusive, in-depth coverage of banking technology in Latin America and the Caribbean in your inbox on Monday mornings. (You can unsubscribe in one-click if you decide it's not for you.)
Quiz
Digital transformation
How well do you know the strategies of your competitors when it comes to digital transformation in Latin American banking?
Take our quiz to see!
Can I bring you dinner?
Which bank is tapping its POS network and building APIs to offer a delivery service that it hopes will boost client loyalty?
New challenger bank
A new Brazilian challenger bank called C6 Bank is close to launching. It's billing itself as the #NextBigFin. The bank is backed by the chairman of which traditional bank?
Artificial intelligence
Mexican banks are starting to use artificial intelligence tools. What's the main application of the technology currently in Mexican banks?
New threats
What's the biggest digital threat to traditional banks today?
Eeep!
Seems you're a bit behind on what the rest of the market is doing…
Why not sign up for iupana's weekly newsletter to get exclusive news and analysis each Monday on how technology is transforming financial services in Latin America and the Caribbean? (It's free!)
Not bad!
Not a bad effort…
Want to improve your score for next time? Sign up for iupana's weekly newsletter to get exclusive news and analysis each Monday on how technology is transforming financial services in Latin America and the Caribbean. (It's free!)
Nice one!
Great effort – you're clearly an expert in technology in financial services in Latin America!
Show your friends and colleagues on social media how well you did with these handy sharing buttons.