11 October, 2018
Bradesco, Itaú test selfies, behavioral biometrics
Brazilian banks have used biometric authentication for over a decade. Now they are turning to next-generation technologies including facial, voice and behavioral recognition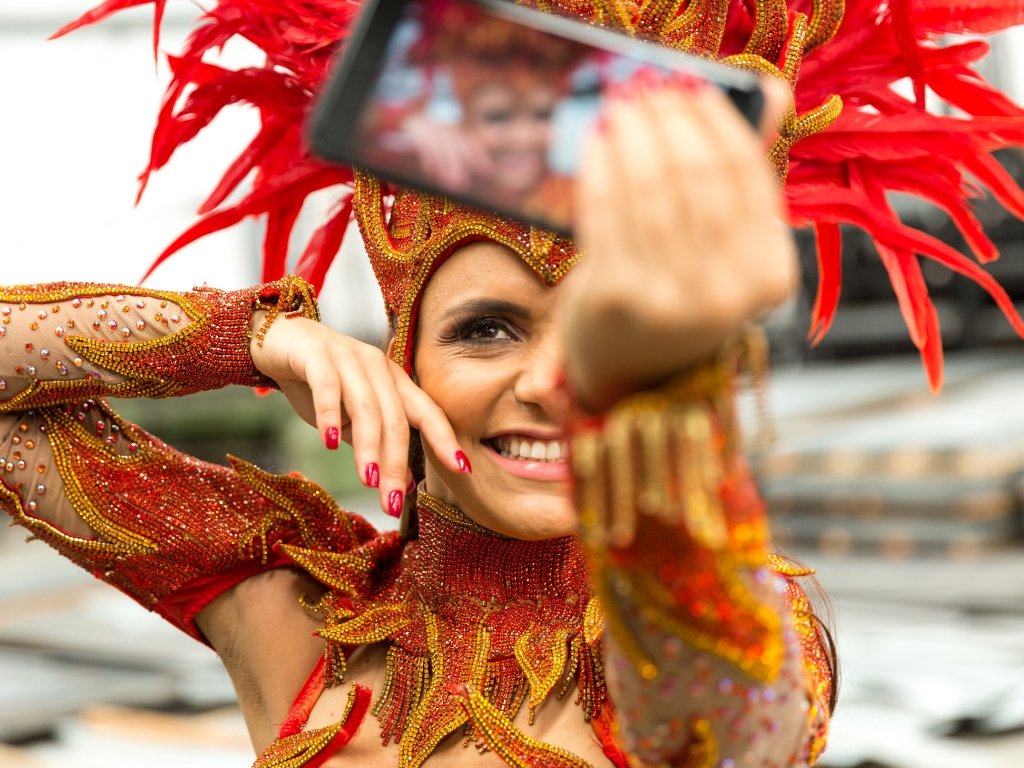 For years, clients of Brazil's biggest banks have been able to forgo a debit card and instead withdraw cash from an ATM with a simple fingerprint or palm scan. Now, the financial institutions are developing new biometric authentication methods that will work with a broad range of mobile phones.
Banco Bradesco, for example, is testing facial recognition technology in the inovaBra Lab, part of its innovation division. "It's a very intuitive technology as people are used to taking selfies," said Marcia Raposo, executive superintendent of digital channels. Still, the recognition software depends on users' devices having a front-facing camera with high accuracy, she noted.
Bradesco is also evaluating artificial intelligence-based systems that use data correlation and behavior for identification.
Biometric authentication is not new for Bradesco. It first began using the technology in 2006, and has focused on scanning clients' palm veins. Following a gradual expansion, now 20 million clients – the bank counts 26 million individual account holders in total – have biometric details registered with the bank.
Bradesco operates 35,000 ATMs of its own, and shares 22,000 more on the Rede Banco24Horas network — and every one can authenticate by scanning a customer's palm.
"Palm vein biometric is the safest and most fluid way to authenticate clients, that's what made us opt for this method," Raposo told iupana.
See also: Brazil pioneers wearables, but consumers approach tentatively
"It ensures unequivocal client recognition, since the configuration of the vascular pattern is unique and that reading only works with the actual and living palm of the hand. There's never been a fraud with this technology," she said, although she declined to disclose numbers around fraud reduction from using palm scans.
Additionally, Bradesco offers fingerprint authentication on mobile apps — if the smartphone is equipped with a fingerprint reader — and voice recognition in its call center. Voice identification, to prevent fraud, is available to 15,000 customers and it's expanding, said Raposo.
Itaú bets on fingerprints
Itaú Unibanco has also been using biometrics for a long time. It started evaluating biometric authentication in 2009 and ran proofs of concept in 2010 using fingerprint technology.
"We developed a unique process of identification, with latency of few seconds, to validate the fingerprint from a database of millions of records to assure our customer can't be impersonated," said Ricard Bento, superintendent of corporate security at Itaú Unibanco.
After a pilot project in 2011 in selected agencies, Itaú Unibanco rolled out the fingerprint system across its network. Bento said that main motivation was to improve the customer experience while adding a higher level of security in banking transactions, whether in agencies, ATMs or new credit card retail outlets.
As a result, clients became able to withdraw cash in ATMs only using their fingerprint, something unprecedented. "There was a strong increase in transaction security, with a dramatic decrease on attempts at theft and fraud by misrepresentation," Bento told iupana. He also did not give numbers the security improvements.
Now, all of Itaú Unibanco's Brazilian branches and ATMs also offer biometric authentication. That spans 4,000 agencies, 24,000 ATMs from its own network and, such as Bradesco, 22,000 Rede Banco24Horas shared ATMs.
According to Itaú Unibanco, the fingerprint authentication will remain the main technology for interaction in agencies and ATMs, but the bank is evaluating other types of biometrics, such as facial, voice recognition and behavior.
See also: Mastercard plans social payments, authentication advances in LatAm
LatAm fintech insights
Get the scoop on how your peers, competitors and clients are using fintech to get ahead. Leave your details to receive iupana's exclusive, in-depth coverage of banking technology in Latin America and the Caribbean in your inbox on Monday mornings. (You can unsubscribe in one-click if you decide it's not for you.)
Quiz
Digital transformation
How well do you know the strategies of your competitors when it comes to digital transformation in Latin American banking?
Take our quiz to see!
Can I bring you dinner?
Which bank is tapping its POS network and building APIs to offer a delivery service that it hopes will boost client loyalty?
New challenger bank
A new Brazilian challenger bank called C6 Bank is close to launching. It's billing itself as the #NextBigFin. The bank is backed by the chairman of which traditional bank?
Artificial intelligence
Mexican banks are starting to use artificial intelligence tools. What's the main application of the technology currently in Mexican banks?
New threats
What's the biggest digital threat to traditional banks today?
Eeep!
Seems you're a bit behind on what the rest of the market is doing…
Why not sign up for iupana's weekly newsletter to get exclusive news and analysis each Monday on how technology is transforming financial services in Latin America and the Caribbean? (It's free!)
Not bad!
Not a bad effort…
Want to improve your score for next time? Sign up for iupana's weekly newsletter to get exclusive news and analysis each Monday on how technology is transforming financial services in Latin America and the Caribbean. (It's free!)
Nice one!
Great effort – you're clearly an expert in technology in financial services in Latin America!
Show your friends and colleagues on social media how well you did with these handy sharing buttons.