23 April, 2018
Bancolombia's Nequi looks to QR, push messages
New payments methods, biometric authentication, still have an evolution process ahead, says director of the digital-only bank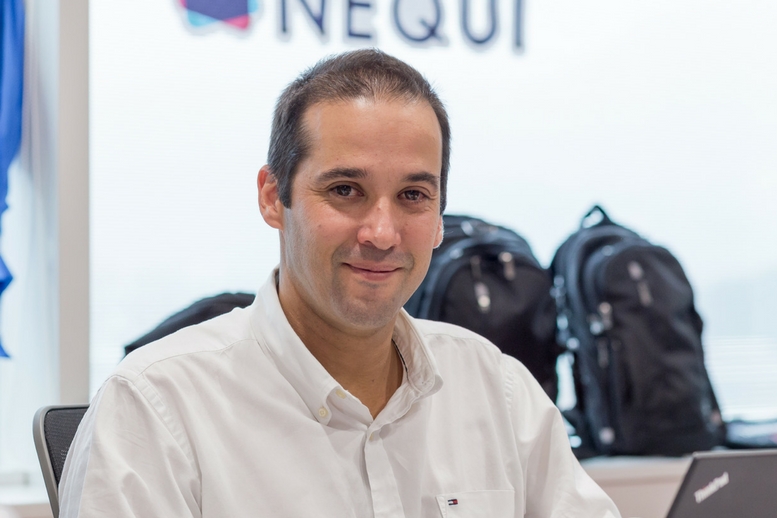 Nequi, the online bank owned by Bancolombia, is experimenting with QR codes and push messages for payments, and biometrics for authentication. But the technologies, and the way they are used, are still in an early stage, Andres Vasquez, Nequi's CEO, has told iupana.
In a bid to get more merchants taking payments over the platform, Nequi recently started allowing small businesses to generate QR codes or push messages.
"That's really directed at supporting the development of social commerce – people that sell through Instagram or Facebook – so that they can have a payment mechanism that's not necessarily the traditional one," Vasquez said.
But it remains to be seen which form of payment will end up dominating the local market,.
"There's still a long way to go for QR codes to be widespread in Colombia," he said. The simplicity of QR codes is a big factor in their favor, he said. But there are other rivals, in particular those that use near-field communication.
"We are not completely convinced that one payment method will dominate over another," he said. "NFC, as the devices become more common, might be more frictionless."
The topic is a big focus for Nequi, which today has 350,000 clients and is targeting a further 300,000 by the end of the year. Customers have taken well to functions within the app to manage money and save for long term goals: the bank designed the user experience of those processes to mimic the way many Colombians use cash. But when it comes to paying third parties through the app, client behavior has been different to what was initially expected, said Vasquez.
"QR codes have taken longer to take off as a payment method with merchants. They are being used, and they are seen as worthwhile, but not as much as we expected."
Early days for biometrics
Another area that is still developing is biometric authentication. Nequi was the first banking app in Colombia to offer face recognition as an alternative authentication method for clients. But the range of smartphones and operating systems in use in Colombia has complicated a smooth roll-out of biometric authentication, Vasquez said.
"We brought in other biometric technologies, such as voice biometrics, because we began to run into some problems with the quality of the cameras in some cellphones. So we introduced other biometrics and we've made a number of adjustments."
But the technology needs to be improved further, said Vasquez.
"This still needs some stabilization," he said. "To refine the quality of the images so that they work for everyone – and especially so that people who are who they say they are do not get rejected. It takes time."
Andrés Vasquez discusses Bancolombia's experience developing and fine-tuning Nequi in this week's iupana conversa podcast. He explains why the bank chose a completely different branding for its digital offering, the future of digital payments in Latin America, and why collaboration and interoperability is so crucial. Listen to the whole conversation or read the transcript here, on iTunes, or search for "iupana" in your preferred podcast app.
LatAm fintech insights
Get the scoop on how your peers, competitors and clients are using fintech to get ahead. Leave your details to receive iupana's exclusive, in-depth coverage of banking technology in Latin America and the Caribbean in your inbox on Monday mornings. (You can unsubscribe in one-click if you decide it's not for you.)
Quiz
Digital transformation
How well do you know the strategies of your competitors when it comes to digital transformation in Latin American banking?
Take our quiz to see!
Can I bring you dinner?
Which bank is tapping its POS network and building APIs to offer a delivery service that it hopes will boost client loyalty?
New challenger bank
A new Brazilian challenger bank called C6 Bank is close to launching. It's billing itself as the #NextBigFin. The bank is backed by the chairman of which traditional bank?
Artificial intelligence
Mexican banks are starting to use artificial intelligence tools. What's the main application of the technology currently in Mexican banks?
New threats
What's the biggest digital threat to traditional banks today?
Eeep!
Seems you're a bit behind on what the rest of the market is doing…
Why not sign up for iupana's weekly newsletter to get exclusive news and analysis each Monday on how technology is transforming financial services in Latin America and the Caribbean? (It's free!)
Not bad!
Not a bad effort…
Want to improve your score for next time? Sign up for iupana's weekly newsletter to get exclusive news and analysis each Monday on how technology is transforming financial services in Latin America and the Caribbean. (It's free!)
Nice one!
Great effort – you're clearly an expert in technology in financial services in Latin America!
Show your friends and colleagues on social media how well you did with these handy sharing buttons.